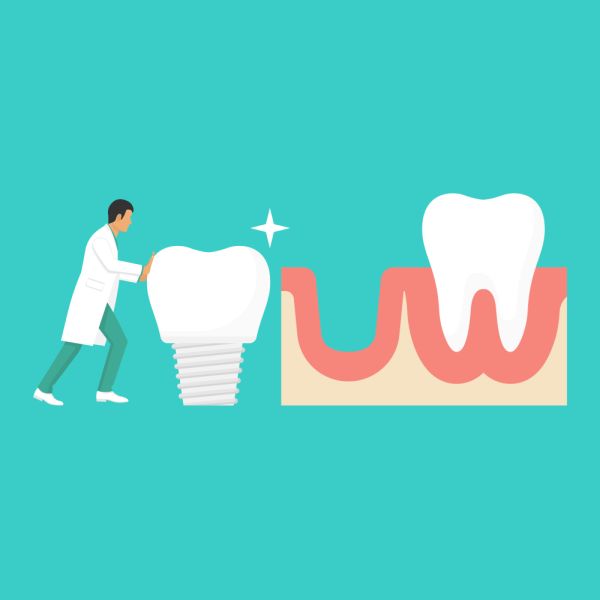 Dental Implants are an excellent option for patients with damaged or missing teeth and can replace tooth roots. A dental implant can restore proper speech, enhance confidence, complete a beautiful smile and enable the consumption of many foods. Made from titanium, implants are durable and can last for many decades with proper care.
What are dental implants?
Dental implants are like artificial roots for teeth and shaped similarly to screws. As they are sturdy and made from titanium, implants are capable of chewing tough foods and still last a long time. Best of all, they bond with natural bone, making them an ideal choice for virtually any patient regardless of damage to teeth and roots. There just needs to be ample bone to fuse with the implant.
Implants, abutments and crowns
These are the three pieces that make up a dental implant. Simply put, the implant is the titanium piece that is fused to the jawbone. Another piece, called the abutment, is made from gold, titanium or porcelain and is screwed into the implant. Finally, the restoration, or crown, is the replacement tooth. Typically made from porcelain, it is fused to the abutment.
What are the benefits?
There are many benefits to receiving dental implants. In fact, many patients choose to have existing crowns, that were inserted using outdated technology and materials, replaced with modern implants.
Greater durability
Unlike natural teeth, the restoration attached to an implant cannot decay. While it will probably wear over time, an implant can last for decades with proper care.
Restored ability to chew
Missing or damaged teeth can hinder the ability to chew foods and restrict consumption of entire categories of food, such as hard foods. The restorations attached to implants are strong enough to chew most foods properly again.
Improved speech articulation
Much of spoken language requires use of the teeth. With missing or damaged teeth, speech may be impaired and unclear. Receiving implants offers the opportunity to restore clarity of speech.
Renewed confidence
Many patients are embarrassed by missing or damaged teeth. Dental implants lead to a natural, beautiful smile, which in turn leads to renewed confidence and improved relationships.
Who should consider implants?
Dental implants are highly versatile and can solve many oral health concerns. Missing teeth are more than an aesthetic issue, as space between teeth can lead to jawbone deterioration. For this reason, missing teeth are prime candidates for dental implants.
However, many others can benefit from implants. Those whose teeth are prone to shifting or who have existing bridges or dentures may also see benefits. Discussing dental implants with a dentist is the best way to determine eligibility and whether this incredible technology offers individual benefits to a patient.
Conclusion
Dental implants offer restored speech, the ability to eat favorite foods and regain confidence. They can last for decades with proper care. Best of all, many people are excellent candidates, regardless of current oral health. The best way to determine whether oral implants are the right choice is by consulting with a dentist.
Are you considering dental implants in the Emerson area? Get more information at https://www.emersondental.com.
Check out what others are saying about our dental services on Yelp: Dental Implants.
---
Related Posts
May 15, 2019
TMJ (or TMD) stands for temporomandibular joint dysfunction, a disorder that causes pain and limited movement in the jaw joint and the surrounding muscles. A feeling of tiredness in the jaw hinge is often due …